Intuitive web analytics with privacy at heart
Collect the data you need and mind your users' privacy.
Simple & intuitive to help you make sense of the data you collect.
Based on fair pricing, no long-term commitment.
Sounds good, doesn't it?
Be the first one to try SiteClue and get an early adopter discount: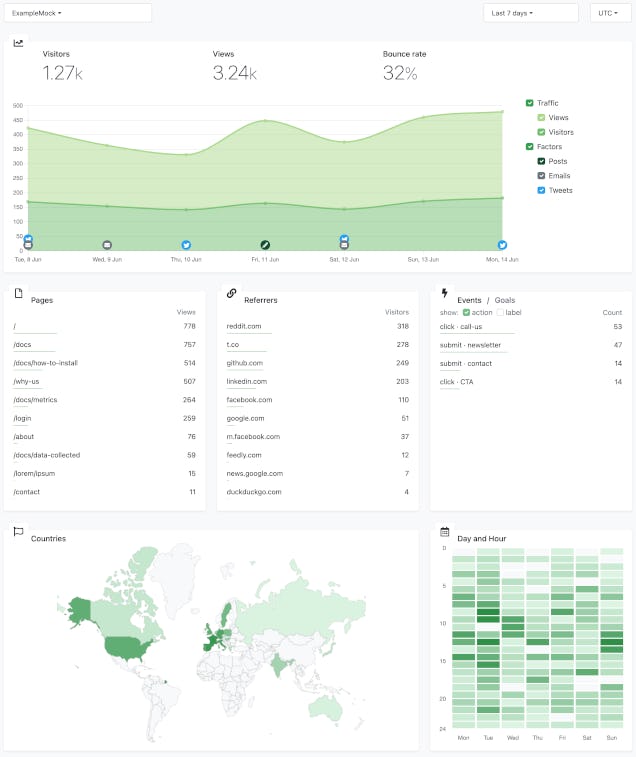 How do you measure your online impact?
Everything can be — and should be — measured when it comes to digital marketing. Data will show you the direction to follow and the paths to abandon, but only when you understand what it tells you. Not all analytics services are transparent and easy to use, though.
With SiteClue, you don't need weeks (not even days) of training to make sense of your data. You just log in, move around your dashboard and see all the information that matters: about users, views, referrals, events, goals, and use advanced filters to gain even more insights from your data.
See how we approach web analytics
Simple & sophisticated
We're committed to making analytics easy to understand without making compromises on quality. You can get all the data you need and access it quickly, without having to click through numerous pages. Everything you need brought in one, clear dashboard.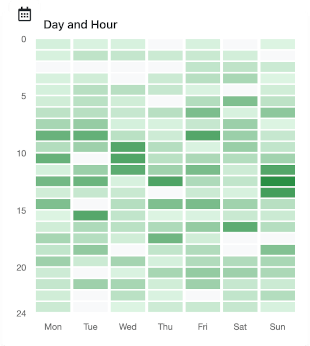 Privacy-focused
You don't need cookie acceptance popups when you care for your users' privacy. How so? We don't track users using cookies nor collect personal information (including IPs). Most importantly, we don't ever use or sell your data! It's all safe with you and you only.
Everyone's included
You can't afford to miss data about your users, yet you're leaving behind an astonishing 30% to 45% of your users who are blocking tracking scripts when using Google Analytics. With SiteClue, you see all your users, nobody's ever left unnoticed.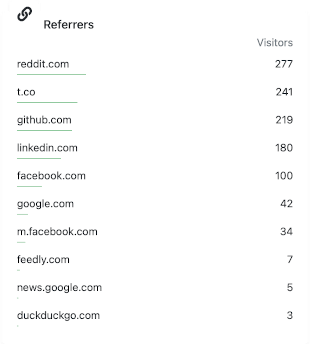 Privacy
No cookies, no data abuse. 100% GDPR and CCPA compliance. Online privacy is everyone's right and will always be the core of our business.
Simple AND advanced
Advanced analytics doesn't have to look like an enigma. Access all your data in a comprehensive, transparent dashboard and use one-click filters that allow you to have a closer look at user behavior.
Precise
Average values are subpar. See how much time users spend on your pages. Exactly, not approximately.
Impact view
See a spike in data? We'll also show you the factors that contribute to views: new posts published, newsletters sent, links shared on social media. See how your online presence is built.
Goals and events
Keep an eye on page views and custom user actions that are important to you. Set custom goals, measure effectiveness, and count your revenue.
Multiple websites
Monitor traffic on multiple websites, with no limits. All under a single, consolidated bill.
Small tracking script
To use SiteClue you only attach a 2 KB script to your website. You can even bundle it with your other scripts to reduce network requests count.
Custom domain
soon
Bypass ad blockers even more effectively with your custom domain set as an endpoint.
Intelligent alarms
soon
Get notified when your website traffic changes. Whether it's a good or a bad sign, you should always be aware of non-typical changes in traffic.
What features are most relevant to you?
SiteClue provides a selection of features to address the pains of any digital creator. Use the ones designed for bloggers' and companies' needs or play around with all of SiteClue's capabilities - you have access to the full package of features and can choose how you use them to make the best out of the data you collect.
Designed for bloggers
Measure your online impact without having to click through numerous sections of your analytics software. SiteClue gives you:
Insight into how your activities contribute to growing your reach, showing you a timeline with publications, social media mentions, and newsletter updates
Easy connection with your Wordpress CMS with a dedicated plugin
Designed for business
Track the relevant metrics without giving up on your leads' privacy. What's SiteClue got in store for companies?
Goals and events to measure the effectiveness of your digital marketing activities and track conversions
Advanced filters to perform even more in-depth analysis of your data
+ simplicity of use and transparency for all 😉
Not sure how SiteClue fits in with your individual needs? Let's talk!
Pricing
Fair analytics and fair pricing: you only pay for the actual traffic your websites receive.
$0.0003 per pageview and event
The elephant in the room 🐘
OK, let's address it. Why not use Google Analytics instead? Everyone else seems to be doing it anyway, right?
Not quite right, actually, and there are numerous reasons why Google Analytics is not the best solution out there.
It's not free 💸
You may not pay bills for it, but in reality, you pay with your users' privacy. Google uses your website to track and analyze user behavior. And they use this data however they please.
Ad blockers are an issue 🚫
Browser extensions like AdBlock Plus or uBlock Origin are blocking Google Analytics scripts, which prevents them from collecting data. Depending on the user group, in Google Analytics, you may miss out on 30-45% of your users!
Cookie monster, in a bad way 🍪
GA uses cookies to track your users. To comply with regulations, you must first show an annoying cookies notification, wait for the user to accept it, and only then enable the tracking script. Cookies are bad for both you and your users.
Overcomplicated 😵
It's a known fact that Google Analytics is complicated. Businesses make big bucks teaching how to use and understand it. For the majority of cases, you don't need this level of complexity. All this data can be shown in an easier-to-digest form.
But why wouldn't I choose another analytics solution?
There are other Google Analytics alternatives out there, many of them also focused on maintaining privacy for your users. You can review them here: PrivacyFocusedAnalytics.info
We feel confident sharing this link because we believe that SiteClue stands out with:
Fair pay-per-use pricing
We do not bill you $15 a month no matter what; we only charge you for actual traffic.
No-hassle configuration
We offer a cloud solution that you can start using in minutes and easily manage on your own.
Powerful dashboard
We want you to have full insight into your users' behavior and be able to access the data as easily as possible.
Unique features
Like the impact view showing factors that contribute to page views.
Frequently Asked Questions
Can I use SiteClue for multiple sites?
Of course! You can add multiple websites to your account to easily monitor them in one place and pay a single consolidated bill.
How long is my website analytics data retained?
Indefinitely, that is until you close your account. You can see your analytics data from the start of monitoring (nothing gets deleted in the meantime) to have a big picture on your website history.
Can I limit my max spendings?
Yes. In fact, we will encourage you to do so. We want you to feel safe, so we allow our clients to set a monthly threshold after which their websites won't be tracked and they won't be billed.
How can I add a tracking code to my website?
You can add our script hosted on the fast global CDN directly to the HTML or you can bundle the tracking package to your JavaScript code, to minimize the number of external requests when your page loads. If you are using WordPress, you can simply install our plugin.
SiteClue seems right?
We sure hope it does and are doing our best to make it exceed our clients' expectations.
Want to see how it works? Type your email in the box below to receive our pre-launch special offer!
Bloggers, creators, and entrepreneurs want to understand their audience and customers to improve their experience with the company. That's natural — and that's the right direction for companies to grow.
However, more and more digital businesses realize that Google Analytics is not an ethical choice for that. Thankfully, it's no longer the only choice.
I'm a blogger myself. Like others, I wanted to get rid of GA tracking my readers, get rid of the cookies banner, and still see how well (or badly) my articles are performing. Unfortunately, even though there's a number of solutions on the market, I did not find one that would fully satisfy my needs.
That's why I built SiteClue - to give owners of websites, both small and big, a tool they will not only be happy to use but will also find truly helpful.
I hope together, you and me, we will contribute to making the internet a better place for everyone.

Maciej Radzikowski
creator of SiteClue